Forever Young Products…
"the best value for the lowest cost
from a company that really cares"
Ideal Resveratrol-VF
(Veterinary Formula)
295 mg. capsules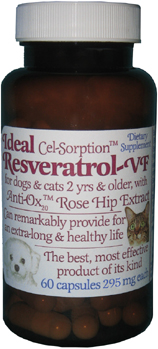 Ideal Cel-Sorption™
Resveratrol-VF
Key Benefits
Ideal Resveratrol provides the best expected benefits for the lowest cost—which is real value.

Scientifically formulated with both 50% and 98% resveratrol, for ultra absorption and benefit.

"Ideal Cel-Sorption™" using the purest & finest ingredients available on Earth, put into convenient-use caps that you just pour onto food from.

"Anti-Ox20™" Rose Hips extract scientifically formulated for ultra absorption, health, and effectiveness.

Greatest results for dogs and cats, age 2 and older, without unwanted results—all for the best value.

Pricing
| Description | SKU # | Price |
| --- | --- | --- |
| Ideal Resveratrol-VF | sku-2 | 34.95 |